Workshopping a New Vision
ExtraTech Systems brand identity update
Background
Led the 30 year old company in a series of workshops to align vision, values, and offerings in the transition of new leadership after the founder retired.
Summary
I facilitated multiple company-wide workshops:
Vision Statement
Value Proposition
Core Values
Brand Themes
The culmination of the brand work was a new logo and wordmark based on the messaging uncovered in the workshops.
Methods
Stakeholder Interviews
Workshops
Dot Voting
Expert Review
Discerning Brand themes
I led a workshop by looking at comparisons within different groups of seemingly irrelevant groups.
Using groupings of images, I asked the team to identify "us" (our company, our culture) in different categories.
Past Identity
ExtraTech had previously flown under the radar, preferring obscurity. Now, to obtain more customers, the leadership wanted visibility and a fresh start.
Stepping back, a redesign needed to answer the questions:
Who are we?
What value do we bring to our customer, our end user?
I used competitive analysis, workshops, and interviews to learn more.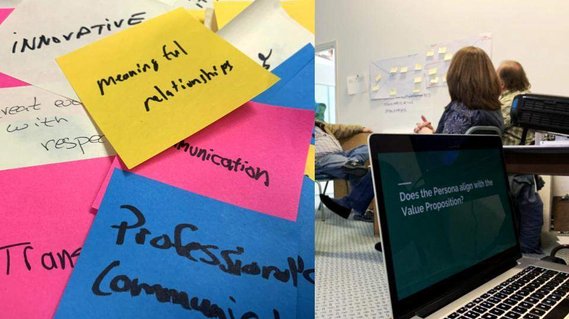 Process
Workshops:
Core values
Mission
Vision
Persona and Value proposition
Comparison Workshop
Competitive Review:
Identity, colors, fonts, etc.
Message tone and strategy
Graphic elements
Branding Pyramid:
Foundation: research in customer truth, our attributes
Deliverables: mission, vision, values, personality
I used dot voting as one way to gut check the design process.
Generating a brand document gave me the resource I needed to put forward my findings, and confidently build a design system for ExtraTech, including the logo.